Zyra
This build guide for Support Zyra was written by Melyn, a master-tier Zyra main. Zyra has a lot of utility and her plants are deadly as a support. Her seeds can act as a ward and once stepped on give vision.
Required Reading:
Quick Guide
Have any questions on this guide? Ask Melyn on Twitter, Twitch, or Youtube!
Hello everyone and welcome to my Zyra guide! Zyra is a support where you don't have to rely on your ADC to succeed. If you end up stealing kills, they are not wasted as Zyra is capable of outputting insane damage at any time in the game, even when behind. Capable of great ranged harass and a long auto-attack range, Zyra can give your AD carry a lot of room to farm in lane and her CC and late-game AoE damage can carry your team to victory!
Note: front-page is updated for 6.1 (1/11/16), other pages are still only updated for 5.22.
Runes
Greater Quint of

Ability Power

x3

Greater Mark of

Magic Penetration

x9

Greater Seal of

Health

x9

Greater Glyph of

Magic Resist

x9
The above is a standard "safe" rune page. However, I use many different pages for Zyra that are situational. Below, I will list a few (Quints/marks/seals/glyphs), but you can find all of my pages on my lolking.
- Against low harass or AD/tank supports (eg Thresh): AP/mPen/HP/AP. This page gives you a lot more early game power sacrificing MR. It can be great if you are confident or they have low AP threat in lane.
- Against sustain or safe support (eg Soraka/Janna): AP/mPen/HP/sCDR. This page still gives you a lot of early game power, but recognizes that you may not be able to get an advantage in lane. The scaling CDR is extremely effective to help your late game power, bringing you close to CDR cap with no items at max level.
- Against a team without tanks: mPen/mPen/HP/mPen. Magic penetration scales exponentially against low MR targets. So if you don't think your opponents will buy much magic resist, this is the page for you. You will do slighly less damage early, but once you start stacking magic penetration, it will be much more effective. Slightly less effective than AP runes against tanks.
- Against an engage/skillshot support (eg Leona, Blitzcrank): MS/mPen/HP/AP. Still giving a lot of damage with AP and magic penetration, this page goes movement speed quints to help dodge the engage. If you're confident in your fast feet, you don't need this page, but take it whenever dodging skillshots is of the utmost importance.
- Against a team with a lot of damage (eg Draven ADC, Karma support): Armor/mPen/HP/MR. The most defensive of my rune pages, I take this when bot lane is going to be extremely painful. You can still put out pretty good harass and this will make you decently more likely to not die.
Masteries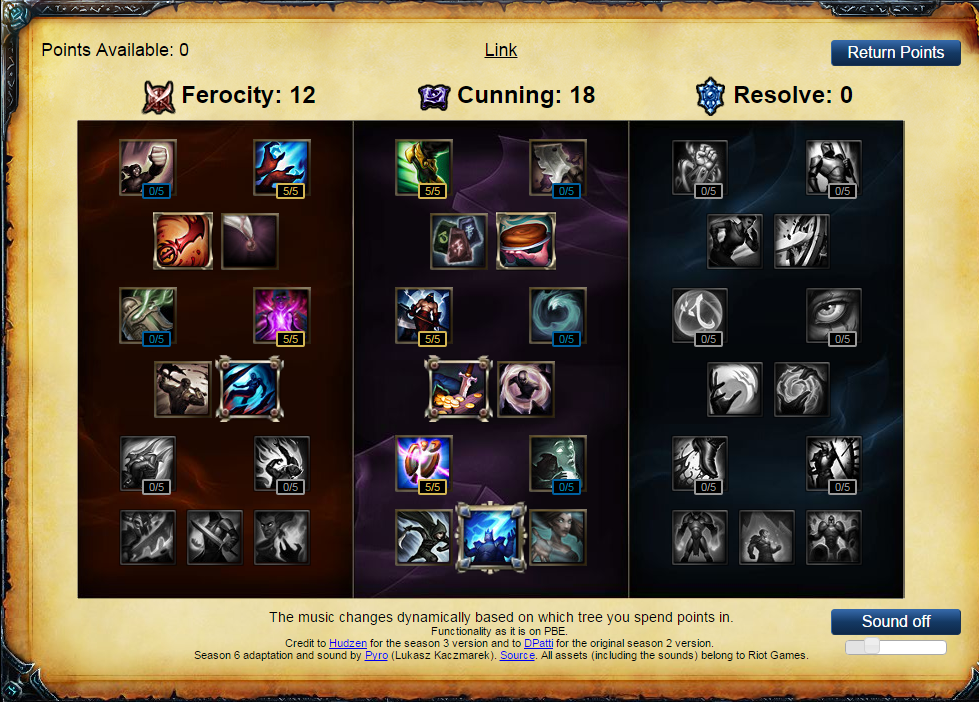 My primary mastery page. NOTE: I often switch out merciless (execute damage) for meditation (mana regen) depending on the matchup. Going all in a lot? Run merciless. Boring/sustain/safe lane? Go meditation. Besides that, some pretty standard things. I like the flat penetration and thunderlord's decree, so I go 18 cunning. I then prioritize the damage from ferocity more than the health from resolve.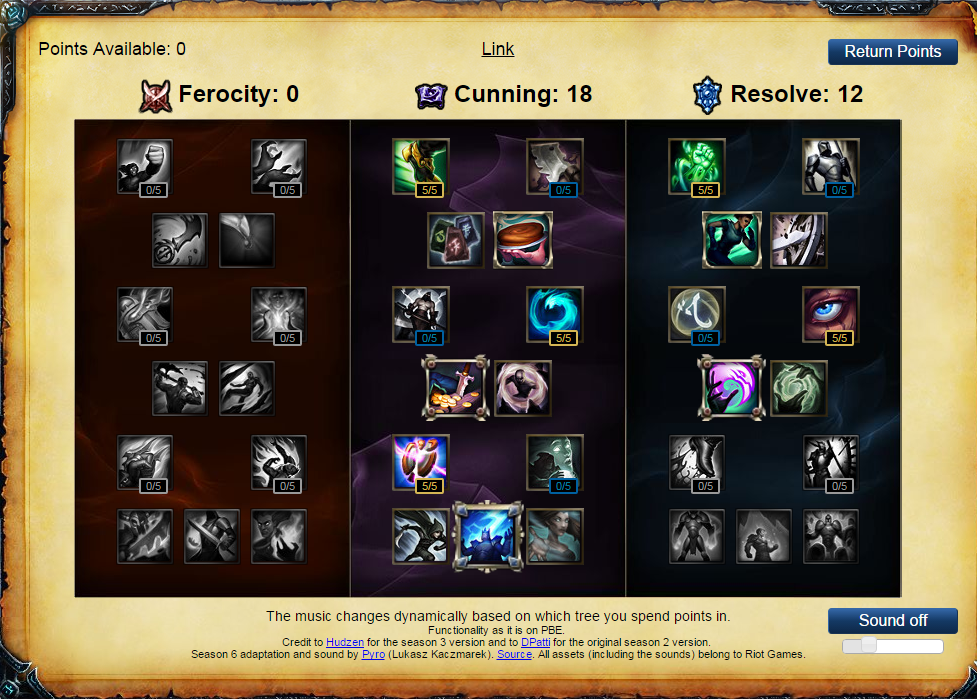 A safe alternative to page 1. Good for those with maybe a bit less experience on Zyra. More health and lower cooldown on summoners should be helpful. I almost never run this, however.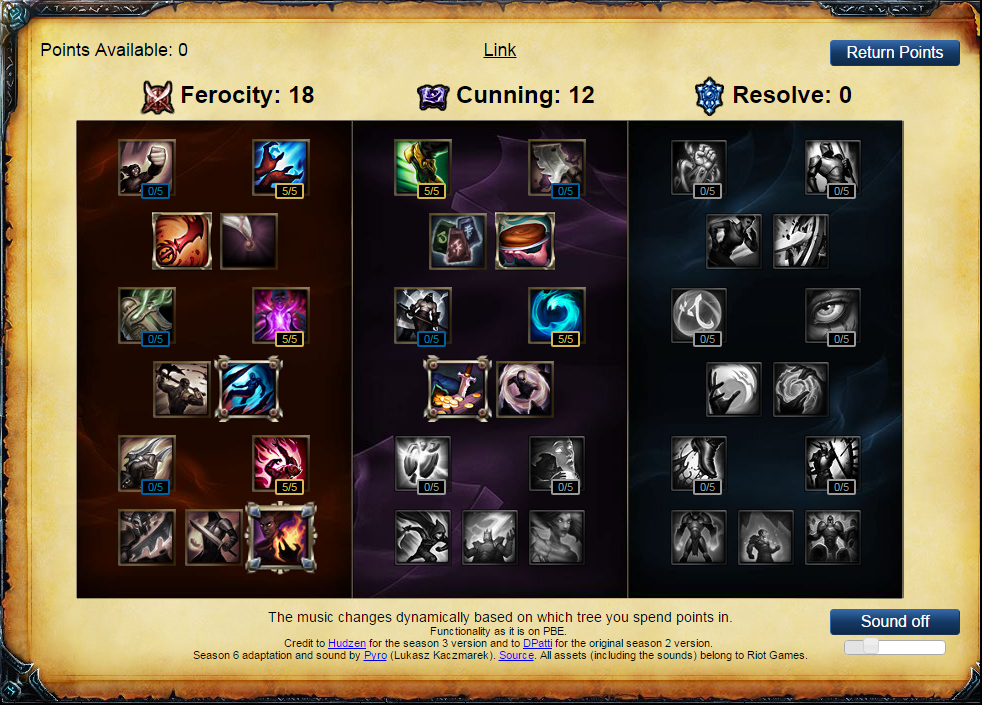 This is a fairly strong page, and the % magic penetration as well as deathfire touch really helps chunk down tanks. I don't prefer it, though.
Summoner Spells
Flash

Exhaust
Flash

Ignite
I think this season has returned us to seeing flash+exhaust every game. With the 5.22 changes making ignite only affect self-heals, ignite is mostly only worth damage, as Soraka heals, summoner heal, and other external heals are no longer affected. Not to mention, exhaust was already much much much better mid-game and beyond. I usually go ignite when I want to snowball or have kill pressure, but otherwise I will go exhaust, especially if we're against high damage bruisers/assassins such as Irelia, Zed, and Jax.
Skill Order
Traditional
Q

Deadly Bloom

W

Rampant Growth

E

Grasping Roots

R

Stranglethorns

Q
W
E
E
E
R
E
Q
E
Q
R
Q
Q
W
W
R
W
W
1
2
3
4
5
6
7
8
9
10
11
12
13
14
15
16
17
18
Experimental
Q

Deadly Bloom

W

Rampant Growth

E

Grasping Roots

R

Stranglethorns

Q
W
E
Q
Q
R
E
E
E
E
R
Q
W
Q
W
R
W
W
1
2
3
4
5
6
7
8
9
10
11
12
13
14
15
16
17
18
Invading: if you're invading or being invaded get E at level 1!
Q

Deadly Bloom

W

Rampant Growth

E

Grasping Roots

R

Stranglethorns

E
W
Q
E
E
R
E
Q
E
Q
R
Q
Q
W
W
R
W
W
1
2
3
4
5
6
7
8
9
10
11
12
13
14
15
16
17
18
A brief explanation on levels 1-3. You should always have W at level 2. Q start is standard, as it gives you reliable harass (though you will run out of mana quickly) and sets you up for a nice bit of level 2 burst with a plant. E start is great for invades (AoE root!) but not very good for lane since the root duration is so short at level 1 (0.75 seconds) and it is extremely easy to dodge. If you know you can hit level 2 first (eg their bot lane died pre-lane or are cheesing somewhere else), go W first and then you will have two plants immediately at level 2 and you can 2v2 almost anyone easily. I almost never take this option, however, since it is really risky if they come to lane before you hit level 2.
As you can see, I usually do the same skill order with the exception of levels 1-3. Regardless of your skill order, there is no situation where you should not have all three skills at level 3 as it is vital to your damage. Arguments can be made for maxing order, but I use E -> Q -> W. Leveling E and Q gives the same damage upgrade, but E gives you longer root duration and Q gives you a decreased CD. Maxing W does not give you more damage (plants do damage based on your level) but it does give you flat CDR and faster plant recharge which, although nice, is not as important as the other two skills. Use this information to choose the order you deem best for the situation.
However, recently I have started experimenting with leveling Q in lane and only leveling E after laning phase. I do this when I'm up against mobile AD carries (champions with quick dashes, like Vayne, Lucian, Kalista, etc...). The rationale is that, especially against more talented lane opponents, the slow skillshot of E is too unreliable, and you lose a lot of damage if you miss it. Your Q, however, is on a low cooldown and much harder to dodge, making it a better harass tool and increasing your poke. Q-W-auto will deal tons of damage even with no items. The only thing to be aware of with this build is to not waste your ult. One of the key advantages of maxing E is that if you land it on someone, they will be stuck in your ult. But with level 1 E, the root is very short (0.75 seconds) and they will simply walk out of it.
Items
Starting Items
Spellthief's Edge

Health Potion

Warding Totem (Trinket)

Health Potion
In 5.22, you now start with 500 gold and mana potions are removed. I don't currently see any situation where you wouldn't start spellthiefs and 3 HP potions.
Core Items
Sightstone

Boots of Speed

Frost Queen's Claim

The short answer is that it depends highly on playstyle and you kind of can't go wrong. The long answer is a bit more complicated. For brevity, I will tell you what I do most often. Usually I will rush frostfang and boots, giving me more scrapping power in lane, much greater mana regen, better roaming potential, and higher gold income. Then I work on my SightStone for vision and finish Frost Queen's Claim. I almost never buy Eye of the Watchers as item slot efficiency is not as important with the reduced game times in preseason and the active from Frost Queen's Claim makes up for one of Zyra's biggest weaknesses: her difficulty in warding, as she is one of the slowest and squishiest targets in the game. Then transitioning to Rylai's without stopping for haunting guise. Haunting guise is great against low MR targets, but the utility from Rylai's and FQC is just too amazing while still providing good damage and I think the new support items (with increased gold gen) are worth too much to delay, which pushes haunting guise back very far. I am almost always building spellthiefs -> boots/SightStone/Frostfang -> sorc boots/upgraded support item -> rylai's for most early games.
This is your core. If you can get these items early, you will probably win the game. On these snowballed games, try to stay in lane, ward for ganks, and farm champions because you are very strong. Often times, however, that doesn't quite happen! During even or behind games, I will often get early sighstone and swiftness boots (much better than mobi's given s6 changes) to better impact the map. This lowers your damage output, but you still do a large amount of damage and are much more helpful for your team. Try to get deep vision (when it's safe!) and roam (when your carry can take it!) with the swiftness boots / sighstone rush.
Typical full build
Sorcerer's Shoes

Sightstone

Frost Queen's Claim

Rylai's Crystal Scepter

Liandry's Torment

Void Staff
The above is a typical build. For trinkets, I usually keep the yellow trinket until level 9, as the sighstone nerf (only 3 wards now) heavily impacts your ability to ward. When you hit level 9, switch to either oracles (red) or the blue trinket. I prefer oracles.
If they have a really fed AP, I might consider getting Aegis and later upgrade it into a banner of command(although it is MUCH better if your jungler purchases this item). However, aegis has been consistently nerfed over the last few patches and I am buying it much less often. Then you want to upgrade to liandry's. Liandries is amazing for any scenario, even when you're not against huge tanks. If you snowball, you can get an early rylai's afterwards, otherwise you may wish to get a voidstaff or banner of command.
Try to always keep 1-2 pink wards in your inventory for dragons and/or barons (or use them defensively in your jungle if you are behind).
Situational items
Banner of Command

Zhonya's Hourglass

Boots of Mobility

Abyssal Scepter

Rabadon's Deathcap

Luden's Echo
Situational items for that last slot (may be purchased at any time, depending on the game).
Rabadon's Deathcap: a solid final item when you really want to be a burst mage.
Luden's echo: Buy this for the move speed and the poke, not for the damage.
Zhonya's Hourglass: I get this against full AD comps or when I'm ahead against an assassin-heavy comp (kat, rengar, talon, etc...) It is really expensive and armor was nerfed in 5.22, so you can only really get it when very far ahead against a lot of AD. Also, I don't think Zyra benefits too much from the active, as most teamfights are so quick that you only get one rotation off before they are decided, so as long as I get my burst off, I don't mind dying too much, which makes the active much more situational.
Banner of command: I purchase this item when I am behind in lane and want to be a more traditional support, and less focused on dealing damage. Even against heavy AP teams, I ask my jungler to purchase this (unless I am behind) and it has been nerfed many times, so I don't buy this often. Also, this can be a very useful item to deal with side waves. Usually it's the top/mid/adc's job to manage side waves, but sometimes you need to take control of the flow of the game and do it yourself! Plus, the extra gold income from the banner'd minion is nice.
Mobility boots: Don't buy these anymore.
Boots of swiftness: See midgame discussion.
Twin Shadows: RIP
Abyssal Scepter: This item can be very very good against squishy AP comps. It adds on even more flat penetration and helps you stay alive.
Rod of Ages: very good (and buffed in 5.22) item that gives a lot of AP and eliminates mana problems. I don't really know a good time to buy this as a support, though.
Pros and Cons
Pros
Great harass in lane
Good all-in, provided you don't get caught.
Amazing AoE CC and

damage

in teamfights.
Can use seeds as mini-trinkets for vision
Gives significant (and often underestimated)

damage

in teamfights, even with only one

damage

item.
Cons
Extremely squishy
Low mobility
No reliable engage (mitigated by

Frost Queen's Claim

)
Due to how her harass works, Zyra naturally pushes the lane, making you very vulnerable to ganks. Couple this with low mobility and you have a very dangerous early game.
Good AoE CC, but not very good single target peel.
Due to cons 1-3, warding mid-late game is difficult (mitigated by blue trinkets and FQC)
Counterpicks
In short, counterpicks to Zyra are assassins, sustain supports, ADCs with high mobility, and depending on how you play, possibly engage supports. If you have questions about a specific matchup, message me on Twitch, Twitter, LoLPro, or Youtube and I will address it. Eventually I will expand this section with more specifics.
1) Assassins (Zed, Talon, Rengar, etc...): When they focus your ADC in teamfights, there is usually not much to worry about, since you can use your high damage spells and kill them fairly easily, but when they focus you, you will often die before even getting your plants and/or ult off. When you are against assassins, you need to play extra safe to not get one-shot.
2) Sustain supports (Nami, Soraka, ...): These champions effectively negate your harass while giving harass back onto you. Since Zyra has no hp and no sustain, this means that unless you can force an engage, things will be very difficult for you. Best thing to do in these situations is to get a gank, or force an all in. As long as you dodge their CC and fight in your plants, you will be able to out-damage them.
3) ADCs with high mobility (Lucian, Vayne, ...) these champions have movement spells with a low CD so they can easily dodge your E with no repercussions (as opposed to Corki or Tristana, whose escapes have a high CD / mana cost). If their ADC escapes your plants, you are effectively doing 0 sustained damage and will likely lose the trade/all-in. Luckily, many of these champions are also short-ranged, which gives you and your ADC a great opportunity to poke and zone them. Focus on getting them low early. Due to their mobility, it is extremely unlikely that you can land your grasping roots (E), but a Q - W combo can do a lot of damage, especially if it is placed behind the wave so the plants will zone them, even if they dodge the Q. I recommend maxing Q and only using one seed at a time. If they commit to a fight, use your E and your second seed.
4) Engage supports (Blitzcrank, Thresh, Leona, etc...): These champions can either go great for you or go terribly. If you can dodge the engage, you can do loads of damage and harass without worry. If they engage on your ADC, you can usually get a lot of spells off on theirs and make it an even trade. However, if you get engaged on, you will almost surely need to burn flash or die. Try to play very safely while still maintaining lane presence with your plants until their spells are on cooldown. One trick you can try against champions with hooks (assuming good reaction time) is to bait him into hooking you, and then E - W them. Depending on how early you E, place your W between the two of you to block the hook and do damage to him. Make sure your roots hit your seed before his hook does, though, or else you will be in for a world of hurt!
Previous

Page 1 of 7

Author / Skins